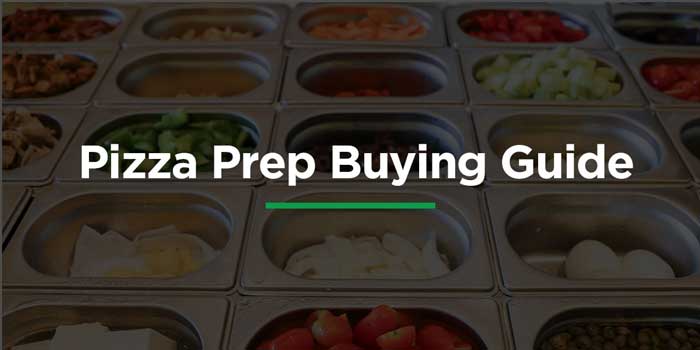 Bromic's Ultimate Pizza Prep Buying Guide
One cabinet, 3 functions
1. The top refrigerated wells are designed to hold your gastronorm pans with ingredients, keeping them at arm's reach when you prepare food.
2. The integrated cutting board provides ample space for you to work on.
3. The under counter refrigerated storage area is ideal for keeping preprepared ingredients handy for use during service.
Not just for Pizza Prep
Bromic Pizza Prep fridges are far more versatile and can be used to prepare various foods in a commercial kitchen, including sandwiches, salads, burritos, burgers, kebabs, and the list goes on!
As you can see, the ways that a prep bench could be used in your kitchen are extremely vast and the product options in the market are almost as abundant. So how do you go about selecting the unit that is right for you and what features should you keep in mind?
Like a good pizza, a pizza prep is only as good as the ingredients that go into making it.
What to look for
Number of Pans
Ask yourself how many different ingredients you would need on hand for the type of food you offer. As the various units can hold a different number of pans, deciding how many pans you'll need is a good starting point in choosing the pizza prep model.
Tip: Consider storage equipment you already have in your kitchen. For example, if you're using GN pans, you want to ensure the pizza prep unit is GN compatible.
Food Safety First
Food safety always comes first, as everyone in the food business knows. As stated in the Food Standards Australia New Zealand guidelines, foods such as cooked meats, pre-cut salads and fruits, foods containing eggs or dairy, and foods with any of the above as ingredients should be kept at 5°C or colder.
Double Airflow
As your GN pans are open and exposed to the elements, it is vital that your pans are both cooled from below and above. Dual airflow ensures that food safe temperatures are maintained throughout the entirety of your ingredients for extended periods of time.
Maximum Ambient Temperature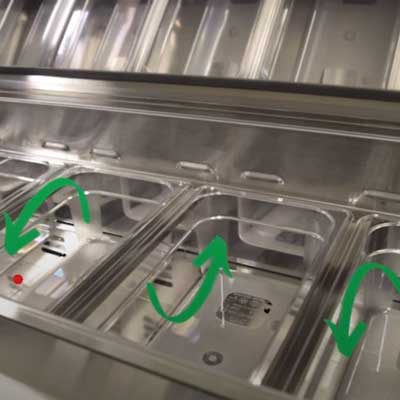 Also, it is essential to check the maximum ambient temperature of the unit to ensure it can maintain food safe temperatures in high ambient environments. This is particularly important for kitchens with commercial pizza ovens where ambient temperature can easily get over 30°C.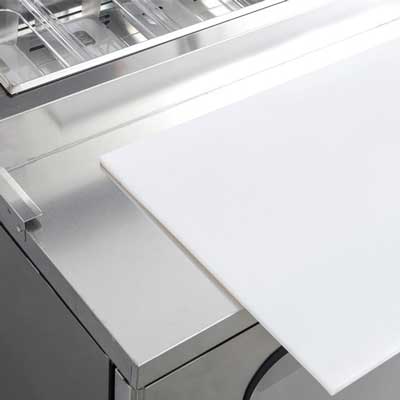 Physical Dimensions
When considering the size of the unit, you want to ensure it can physically fit in your kitchen. A good way to start is to check out the physical dimensions of the unit such as width, height and depth (WxHxD). In addition to that, you will need to allow extra space around your unit to accommodate for:
Ventilation For the best performance and maximum energy efficiency, you need to allow extra space on all sides of the unit for free air circulation. We recommend allowing at least 50mm.
Access You also want to make sure you have enough space in front of your pizza prep counter to be able to open the doors to their full width. This will allow you to easily access the full depth of the under counter storage, should you need to quickly top up ingredients during service.
Installation Pizza preps can be big units so to save yourself a headache upon delivery ensure doorways and tight turns can be navigated to get the unit into your kitchen. In some instances, it may be easier to fit in two smaller units rather than one large unit.
Make your business our next satisfied client
If you are looking to buy a Bromic Pizza Prep Fridge at the best price, then let us do the hard work and source that product for your pizza shop.
Our goal at SCK is to sell you products that add value to your business.
We power your kitchen!
"Hey Google, what do SCK customers think?"
If you have enjoyed reading this blog post, please consider leaving us a review on google?