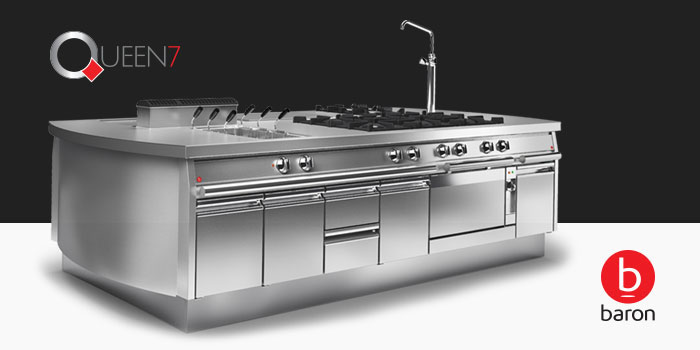 Fully-modular design
As the lockdown continues and normal travel is not allowed, I have started dreaming of islands. Not an island holiday, mind you, but that would be good as well, but cooking islands. This is the latest cooking island by Baron, using their updated Queen7 700mm deep cooking equipment.
Baron Queen7 Cooking Equipment
The Queen7 series, medium line, 700mm deep commercial cooking equipment from Baron is the perfect line for small to medium sized establishments featuring the quality and reliability you have come to expect from Baron, at an affordable price.

For those who cannot do without the quality and sturdiness of a Queen kitchen, Series 7 offers 700 mm depth and a smaller footprint, thus fitting into any room, burners available in various configurations and power ratings and a stylish Scotch-Brite finish.
Compact and versatile
The fully-modular design offers exceptional compositional choice: you can combine various kitchen models with lower ovens and cabinets along with a wide array of accessories, offering outstanding solutions that always provide the perfect answer to a chef's needs.
Every piece of Baron equipment used to create a Queen7 kitchen has a certificate of conformance to international standards.
"Hey Google, what do SCK customers think?"
If you have enjoyed reading this blog post, please consider leaving us a review on google?