Coffee has always been one of the most profitable items to sell in any food business and since Covid began it has actually become the mainstay of many food service businesses.
With so many gourmet coffee roasters out there, the days where you could get your espresso machine from the coffee bean supplier are almost a thing of the past and we have noticed a huge demand for buying an espresso coffee machine through Sydney Commercial Kitchens over the last couple of years.

Make coffee even more profitable
I have started to notice that many takeaway coffees are being served in a takeaway tray made of almond milk style containers.
One of my friends tells me he has used the same one for over a year when he goes downstairs from his apartment to the coffee outlet that is located there.
This is a double win for the operator as it reduces the amount of rubbish going to landfill, assuming like my friend that the customer reuses it, as well as saving you money on buying expensive trays from your supplier.
Have you tried this as a way to save money in your coffee business?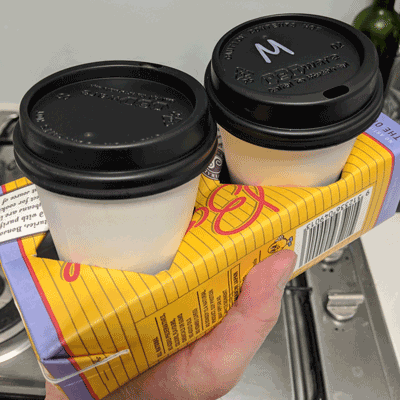 ---