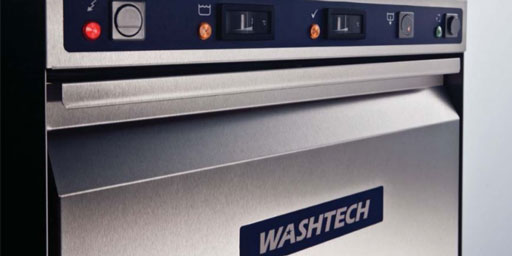 When Saving Money Provides the Best Solution
Washtech X Type Economy Warewashing
Whether a small start-up business or a larger operation needing additional support for high demand, sometimes simple and cost effective technology provides the very best solution.
Washtech's economy range has been meticulously developed to meet these requirements, while at the same time surpassing the common expectations of what entry level products deliver.
With a robust, proven pass-through machine, a simple, high-performance under-counter dishwasher and an extremely efficient glasswasher this range delivers both exemplary performance and, with WAshtech's industry leading commitment to post-sale support, ongoing peace of mind.
Economy X Key Features
Electromechanical Controls
With classic electromechanical controls the X-type units can be both easily operated and, if necessary, easily repaired. Many common components are used throughout the range, so your service provider is likely to have the part required.
Quick-start cycle
These machines start immediately regardless of rinse temperature. If necessary the wash cycle is then prolonged while the rinse temperature reaches the minimum required for effective sanitisation and compliance.
Cleaning power
Dual chemical injectors - for both detergent and rinse fluid - are fitted standard, and the XG and XU models are fitted with drain pumps.
Quick Connection
All service connections are now accessible externally for fast and simple installation (with the exception of the fixed drain connection on the XP).
Rinse capabilities
While the XP model is shipped with a 15amp plugset for fast, easy installation with 3kW rinse heating there is an additional 3kW rinse heating fitted and easily connected when 3-phase supply is available. This is the recommended configuration: 6 kW rinse heating for rapid recovery between cycles.
Free Commercial Dishwasher Guide
How to choose the correct dishwasher for your establishment ...
What you need to know before purchasing a new dishwasher ...