A new aesthetic approach
Waldorf Bold delivers a new aesthetic approach enhancing the Waldorf 800 Series' widely appreciated speed, power and efficiency.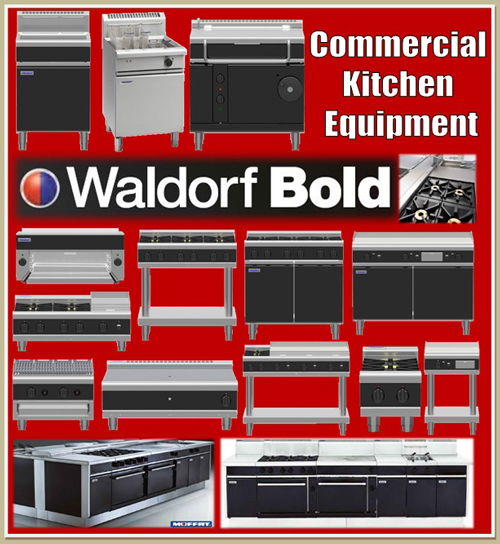 If your kitchen needs to attract and enthral as well as perform - why not make a bold choice?
Moffat has changed the rules of heavy-duty kitchen design forever - with the remarkable new Waldorf Bold range. Designed for innovative chefs who want their kitchen to look the part, the Waldorf Bold range is available in three striking vitreous enamel colours; black, burgundy and chilli red - an impervious surface applied to all non-functioning pieces.
Bold is a transformation of the 800 Series, with the same specifications and all the performance you have come to expect but with a sleek, new aesthetic twist. The Waldorf Bold vitreous enamel colour coating is available in the following product lines: Bench Tops, Chargrills, Commercial Cooktops, Deep Fryers, Griddles, Griddle Toasters, Induction Cooktops, Ovens, Oven Ranges, Pasta Cookers, Salamanders and Target Tops.
Commercial Kitchen Equipment – The Power & The Options
Waldorf's 28MJ advanced performance open burners give full heat control across the entire spectrum, ensuring you'll never be short on performance when you really need it. Made from cast iron for long-term durability, they have a forged brass cap for consistency of flame spread. The non-clogging design ensures optimum burner operation. Robust gas controls are easy to use and designed to withstand the rigors of a busy commercial kitchen.
Design your own workspace
Waldorf Bold gives you the power to design your own workspace. The creative possibilities are almost endless.
Need an Oven to go under that Griddle? A Gas Cooktop with storage underneath? Are you desperate for extra refrigeration? With a range of tops and bottoms available as individual units, Waldorf Bold enables you to configure your kitchen just about any way you like.
Create the layout you desire, mix and match tops and bottoms for your perfect result!
The Waldorf Bold units have two options - the integrated splashback or the low back - both deliver a seamless solution for an island or line up kitchen suite.
Create the layout you desire, mix and match tops and bottoms for your perfect result.
Clean lines and consistency
Modular design across the entire range enable units to fit together to create an almost seamless workspace.
Smooth operation.
On its own, or as part of a cooking line or island suite, every unit in Waldorf Bold is designed to look fantastic. The same design philosophy has been applied across all units to create a streamlined, consistent appearance, and increase the amount of useable work surface.
Continuous workspaces make transferring pots and pans between units much easier.
The industry preferred 800mm depth ensures efficient use of space, while easily accommodating the advanced performance features that define the Waldorf Bold range.
Robust as always.
All Waldorf Bold units are finished in thick gauge 304 grade stainless steel. Fully framed doors incorporate a new robust hinging system.
All our ranges are built on a full galvanized steel chassis construction.
And the superb finishing that has become the hallmark of Waldorf Bold products includes fully welded seams (including all bullnoses) and polished stainless steel surfaces.
How do you like your griddle?
Waldorf Bold Cooktop griddle sections can now be fitted anywhere within your Gas Cooktop layout. They are available in 300, 600 and 900mm sections, with smooth or ribbed surfaces, or a mixture of both.
Heavy-duty pot supports.
Heavyweight iron castings and full vitreous enamel finish add extra durability to Waldorf Bold. Levelled tops allow easy movement of pans between burners, while extended pot support fingers provide greater stability for small pan use.
From every angle, the lines are sleek, seductive and sophisticated - right down to the custom plinth mounting.
Simmer plates spread the heat
A solid top simmer plate distributes heat evenly and provides excellent heat retention. It sits at the same level and is easily interchangeable with pot supports on all Waldorf Bold Gas Cooktops.
Extended trivets and interchangeable simmer plates increase your worktops flexibility.
Cleaning made easier.
The Waldorf Bold range is designed for labour saving, easy cleaning. Rounded corners, internal and external edges enable easier wipe down and hygiene control. Streamlined surfaces make for effortless wiping down of a whole cooking line.
The Bold Technique
How does Waldorf apply the colour and make it stick? The process behind the sleek and durable new look of the Waldorf Bold is both centuries old and cutting edge. First put to use by ancient Persians, to be vitreous is to be 'like glass', and the vitreous enamelling of a surface leaves it hard, shiny and non-porous.
Vitreous enamel is indeed made up of the same materials used in glass. These are then combined with clays and end up as an enamelling 'frit'. The enamelling process fuses the enamel 'frit' to the base steel panel through a firing procedure. Once fired at a temperature of 840°-860°C the 'enamelling' provides a vitreous surface coating on the steel that is both decorative and functional.
The result? An extremely temperature resistant surface with toughness akin to that found in enamelled cast iron baths and high quality cookware. Couple this with the well-earned reputation of the Waldorf brand and impeccable performance; it's no doubt this brand new range is making a bold impression.
Waldorf Bold delivers bulletproof performance and dependability with a range of inspired equipment that redefines how the ultimate kitchen should be.