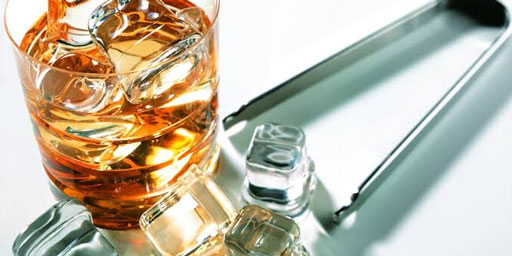 Ice type can become a major influencer
Brema has the different kinds of ice every Australian hospitality business wants
Everyone realises how important good quality ice is in the hospitality industry. From hotel bars, to cafe's and restaurants, fast food chains, upscale bars and even fishmongers, there are a multitude of areas where ice is important.
Having the right ice machines to produce it becomes critical, especially if you require larger volumes.
This is why ice type can become a major influencer in your decision when you buy an ice maker.
There is far more to the process than simple cubes, and with a commercial ice maker from Brema, you will see how these machines can produce the perfect product, no matter the style required.
Fast ice makers can produce high volumes of product much quicker than a traditional ice machine.
Fast ice
The fast food market segment often requires unique or specialised equipment, and the QSRs need to produce lots of ice in a short period of time. Their ice is used to cool soft drinks and other non-alcoholic beverages, where dilution isn't as much of an issue as it would be in a pub, bar or club. Fast ice makers can produce high volumes of product much quicker than a traditional ice machine, which allows for businesses to stay on top of consumer demand even during the busiest service periods.
Fast ice sits around the 7 gram mark and melts at a much faster rate than traditional cubes. Brema's machines use specialised moulds to make sure that even with a smaller size and quicker melt time, peak quality and consistency is maintained at all times.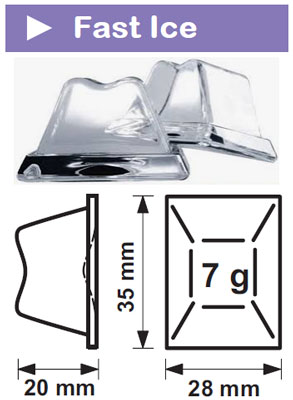 Brema Fast Ice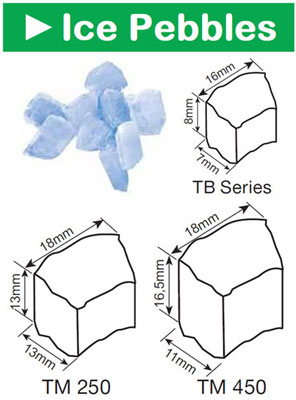 Pebbles Ice are known as Multi purpose ice
Ice pebbles and aesthetic cubes
While fast ice serves a practical purpose, it doesn't have the versatility required by many cafes, bars and clubs. For the best in efficiency and versatility, pebble ice makers provide a complete solution. Pebbles have a few characteristics that make them ideal for cocktails, especially when blended, as they crush easily and cool the liquid rapidly, all without putting unnecessary strain on a blender like cubes might.
The main characteristic is in it's shape: Whether its blended up in a morning smoothie, served to chill champagne during lunchtime, or paired with a cocktail through to the early hours of the morning, pebble ice is truly the chameleon of the catering world.
Flake and Granule Ice
Flakes and granules can be moulded to suit whatever shape of display looks best in a particular space.
A key point about ice that often gets ignored is that it can be used in a far more varied set of applications than just making beverages. This is where the final two types come into play – flakes and granules. These two styles are designed for fresh produce displays, with a very common example being seafood, which needs to be kept cool and look appetising at the same time. Flakes and granules achieve both of these objectives, and can also be moulded to suit whatever shape of display looks best in a particular space – which isn't possible with traditional cubes.
Flakes or granules also provide a consistent surface area, which ensures that your produce remains cool and fresh for long periods of time – even in the hot Australian summer.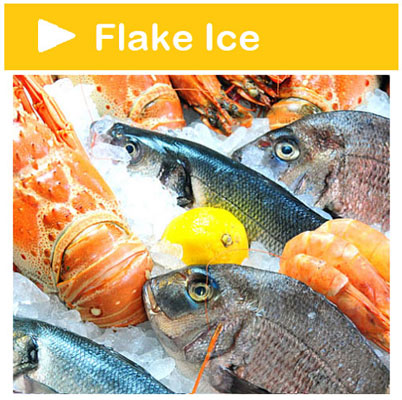 Flake Ice: For more than just drinks
Cube Ice is still the most popular ice maker.
Cube Ice
Of course, for certain drinks such as straight up whiskeys, cubes will always be the best options, and Brema's 13g cube offers a few unique selling points. Firstly, the ice is designed to be slow-melting, which is critical for avoiding diluted drinks. In addition, the cubes have a striking 'tooth' shape that can help businesses give their beverages a point of difference.
With its simple, elegant form and crystalline purity Ice Cube is our most frequently requested ice. You'll find Ice Cube fans all over the world.
Ice Cube is a sophisticated product that makes every drink special, while its discreet cooling action enhances the flavour of the drink.
Of course, regardless of which type of ice you're after, you'll need a machine that can meet your exact needs. Brema's wide range of units suit any business, and can ensure you operate efficiently by producing only the specific amount of ice that you require. Fill in the form to get in touch with us today.
Don't dream, do...
SilverChef understand that every hospitality business journey is unique.
Rent-Try-Buy® is a solution designed by hospitality people, for hospitality people.