Flaker Ice, the secret ingredient to a chilling display!
Fresh is always best and whether it is the catch of the day, farm fresh produce or just a grab and go treat, Flaker ice keeps food fresher and hydrated for longer and also creates an eye catching display.

The unique granular and irregular shapes make Flaker ice extremely adaptable, allowing for creation of the ultimate display for the best appearance and aesthetics.

The ice is formed at just below zero degrees with a dry ice flake texture helping to quickly cool products while also being slow to melt. Exactly what you need to keep produce as fresh as possible for as long as possible.
Brema Ice Flakers
All Brema ice makers are electromechanical and simple to operate. This simplicity means the machines are extremely reliable and backed by an industry leading 3 years parts and labour warranty which gives you peace of mind. A Dust-proof water basin ensures ice is always clean and clear ensuring that the ice is clean and sanitary. Not to mention that all models are designed for the harsh Australian climate and are tropical class rated at +43°C.

The simplicity of the machine production process allows low operating costs. Brema Ice Flaker machines offer the perfect water to Ice ratio of 1 litre of water to make one kilogram of ice with no waste.

Brema Ice Flaker machines make anywhere from 60kg to 1000kg of ice per day.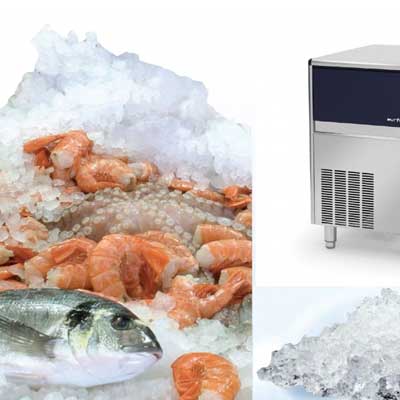 ---
Environmentally friendly… now that's super cool
This makes them the ideal solution for busy seafood retailers, butchers and meat displays, fresh produce/supermarkets as well as juice bars and drink and desert displays in cafes.
An eco-active company Brema designs world leading machines that make ice whilst reducing the impact on the environment. Many of the Flaker machines are now available with R290 environmentally friendly refrigerant if desired.
The main goal of any food supplier is offer the freshest and highest quality produce from the harvest to table, and for that the secret ingredient is a chilling Flaker ice display!

---