Stack the Odds of Success in your favour...
Stacking your business odds of success in your favour.
The Odds for Your Businesses Surviving 5 years is less than 20%...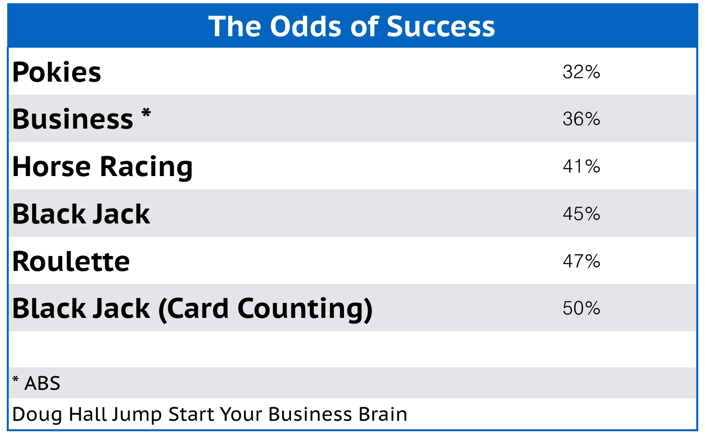 So You'll get better odds to win the Melbourne Cup...
On Average of 44 small businesses close their doors each day, according to Australian Bureau of Statistics data.
76 per cent were still operating in June 2010...
61 per cent were still operating in June 2011...and...
51 per cent were still operating in June 2012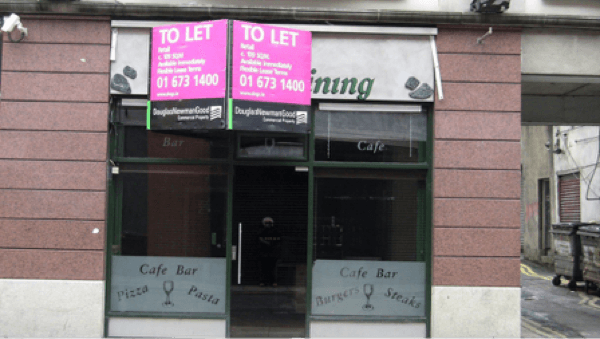 Businesses closing Down - William Murphy //flic.kr/p/7Br4HC
Accommodation and Food Services had the highest business entry rate in 2013 - 14
Restaurants Rates of Survival
The industry is comprised of four sectors: Accommodation; Cafes, Restaurants and Takeaway Food Services; Pubs Taverns and Bars; & Clubs (Hospitality) ABS
So we can see the Accommodation & Food Services compares with all industries.
In 2014 CB Insights, a New York-based research firm analysed. "What led to the demise of 101 failed startups". They found 42% of business failed because the marketplace did not need or want their products.
Copywriter Gary Halbert was known for asking his famous "Restaurant Question" at Business Seminars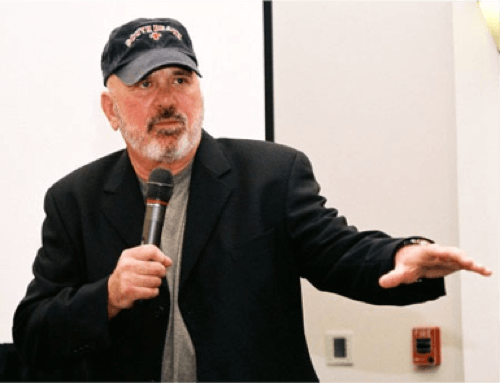 Gary Halbert the Prince Of Print in action
"What's the number one thing you need, to run a successful Restaurant?"
"If you and I both owned a hamburger stand and we were in a contest to see who could sell the most hamburgers, what advantages would you most like to have on your side, to help you win?" Gary Halbert
They yelled back all the standard answers:
Having a great cook...
Having superior meat from which to make their burgers...
Having sesame seed buns...
Get best location...
Creative menu & good food...
Heaps of parking...
Offering the lowest prices etc...
And so on...
His Audience start yelling out, the advantage they wanted, he said: "O.K., I'll give you every single advantage you have asked for. I, myself, only want one advantage and, if you will give it to me, I will (when it comes to selling burgers) whip the pants off all of you!"
He would say "These are all helpful in running a restaurant, but, But, You're missing the point.
"What advantage do you want?" they ask...
"The only advantage I want," he replys...
"Is...
A Starving Crowd!"
If you want to have people beating a path to your restaurant with credit card in hand, then you need a hungry crowd.
If you don't have a starving people, then it doesn't matter, how good all the other things are. No one is coming or buying."
As restaurant owners this probably seems obvious.
So unless your restaurant serves food people want to eat. Then there's a good chance you're going to become 42% of businesses which fail because the marketplace did not need or want your food.
The Golden Rule Of Business. Cash is King...
The next reason CB Insights found for businesses failing, coming in at 29% not managing their Cash Flow!
Cash flow is your vital component when it comes to managing the finances of your business. Because the research shows poor cash flow as the main reason why small business fail.
The golden rule of business. Cash is King...
As a business Owner, you expect to make a profit running your business.
Yet most businesses get stuck because they don't have enough cash coming in to cover their expenses.
This will cause cash flow problems.
If you're feeling overwhelmed trying to figure out how to manage your cash flow you're not alone.
"Poor cash-flow management is causing more business failures today than ever before." Philip Campbell a CPA & author of Never Run Out of Cash - 2004
As a Restaurant you need to manage your Cash Flow
These are all Symptoms not managing your Cash Flow...
Poor Credit Management...
Poor Stock Management...
Insufficient Capital...
Over Investment in Fixed Assets...
Poor Use of Business Funds...
Poor Credit Management is not a major factor for restaurants & cafes because most of customers either pay by cash or credit Cards. So you dont have to keep chasing outstanding payment.
To avoid Poor Stock Management make sure you have you are not serving over sized portions. Stop holding a lot of product which don't sell.
The last 3 Insufficient Capital, Over Investment in Fixed Assets & Poor Use of Business Funds all stem from same problem.
Most businesses don't realise how much Capital they need. Setting up a commercial kitchen requires lots of Kitchen Equipment.
The reason 29% of businesses failed because they spent all their business funds on fixed Assets which means they don't have sufficient Capital to manage their cash flow.
So the smart way of fitting out your restaurant is paying for your restaurant equipment from your profits.
So instead of spending all you cash reserves to get your Restaurant Equipment, you can rent to buy. You're not burdened trying to get by, with the equipment you have the cash to buy when you started.
Now you still have access to your capital to help you manage your cash flow.
It just makes sense the more food you can make & sell the easier it is to pay for your equipment.
Silver Chef's offers Rent-Try-Buy® Solution giving you the freedom and flexibility to choose what works for your business.
Rent-Try-Buy® is Silver Chef's unique funding solution helps hospitality businesses reduce your risk when fitting out your commercial kitchens.
So there's no need for a large upfront capital outlay. Silver Chef buy the equipment while you decide if it's right for you.
Low weekly rental to preserve your cash flow...
Flexibility to upgrade your equipment if it's not quite right...
Adding more equipment as your business grows...
Payments that are 100% tax deductible...
Off balance sheet funding so it doesn't affect your borrowing ability...
*Silverchef's Standard terms and conditions apply and are subject to clear credit conditions
I know a lot of you are kicking yourself because you weren't aware of the Silver Chef Rent-Try-Buy option and you have just purchase all your restaurant equipment.
Relax Silver Chef have come to the party, launching a new product called Buy Back.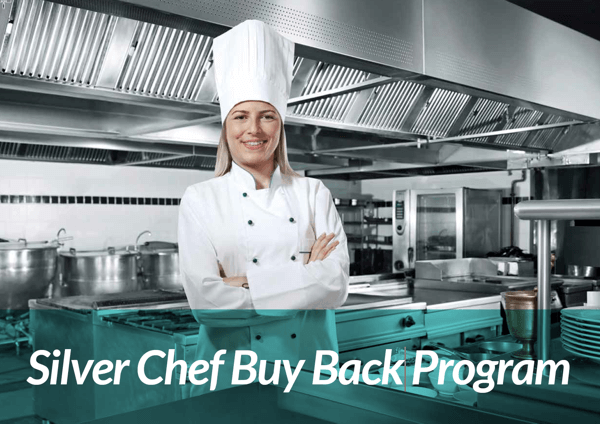 Silver Chef Buy Back Program
Silver Chef is happy to provide a simple cash injection into your business through their flexible buy back program by refinancing your recent purchase of hospitality equipment. Take advantage of their 96% approval rate and convert those depreciating assets into cash today!

The product assists customers with an instant injection of Cash into their business. If a customer has recently purchased an item of equipment within the last 6 months using Cash.

Silverchef are happy to buy the equipment back from the customer at the full retail price they paid. Silver Chef will then commence a new standard 12 month Rent Try Buy agreement with the customer for the equipment.

What You Need
Equipment to be no older than 6 months*...
They require the suppliers original invoice...
An invoice from your business billed to Silver Chef including your account information...
Photos of assets to be funded...
"It is a much easier process than banks and because Silver Chef deal specifically in hospitality equipment, they have all the support with regards to upgrading, downsizing, servicing and, if you go bust, you walk away." Chef, Author and Presenter Dominique Rizzo, QLD
Please refer to attached brochure for your customers which also covers the T&C's.
Skip all the hard work and get the right equipment Restaurant or Commercial Kitchen
If you would like to find out more about Restaurant Equipment for your food business then please choose from one of these options: