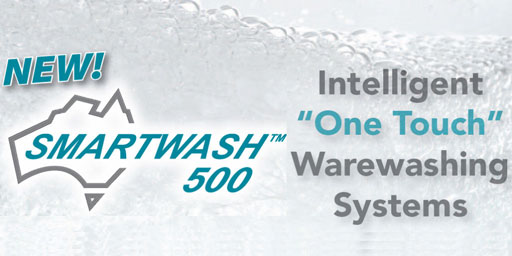 Over 1,000,000 units sold
Over 1,000,000 units sold
That is correct, these dishwashers are made in Italy and the manufacturing company has now made over 1,000,000 units which have been distributed worldwide. Guess they know what they are doing!
This certainly explains why when we sell any Eswood Smartwash Dishwashers our customers are always happy.
Typically, dishwashers made out of the Eurotec Factory feature these benefits:
A powerful, versatile and compact dishwasher that answers the needs of a small to medium sized restaurant in an efficient and effective way.
Get perfect results: an innovative patented wash system giving you 10% improved washing results without increasing the pump power.
Earn more money: with Smartwash Dishwashers you save every year thousands of litres of water, over 100 kg chemical products and a lot of electricity. All this means more money in your pocket.
Stop shouting: all the machines of the new Smartwash Dishwashers range are 2 to 4 times less noisy than the previous models, now you can whisper where before you need to shout.
Wash everything: Smartwash Dishwashers have a huge wash chamber that allows you to wash plates, tall glasses, pizza plates and even trays. Its choice of three different cycles let you adapt the washing process to the specific conditions of the items to wash.
Be lazy: the new Smartwash Dishwashers range use technologies to get a smooth movement of its doors or hoods. This systems also reduce the required opening strength by 40%. This means "lifting" hundreds kg less every day: less fatigue, more efficiency of your personnel.
Eswood Smartwash Dishwasher Models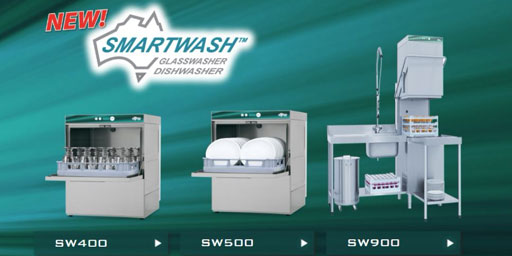 Eswood Smartwash Dishwasher Models
The Eswood Smartwash Dishwashers come in 3 different models with the SW900 having 3 internal models to select from:
ESWOOD SMARTWASH SW400 Undercounter Glass & Dishwasher
ESWOOD SMARTWASH SW500 Undercounter Dishwasher
ESWOOD SMARTWASH SW900 Pass Through Dishwasher
ESWOOD SMARTWASH SW900X Pass Through Dishwasher with Insulated Hood
ESWOOD SMARTWASH SW900V Pass Through Dishwasher with Heat Recovery System
The New Smartwash Range of Pass-through dishwashers / glasswashers are the first attractive, intelligent, one touch warewashing system in Australia that offers incredibly sustainable results in water and energy consumption. This professional warewasher offers the first one touch control panel with digital wash and rinse temperature displays for easy HACCP recording for accurate food safety reporting.
Only Smartwash offers you a warewasher with one touch control, drain detergent & rinse aid pumps fitted as standard, a self cleaning cycle and 3 wash cycle options, offering you an economical and sustainable solution for your business.
Free Commercial Dishwasher Guide
How to choose the correct dishwasher for your establishment ...
What you need to know before purchasing a new dishwasher ...