A Smeg Professional Glasswasher or dishwasher will always work hard for you as long as you carry out these simple maintenance procedures and cleaning instructions.
Smeg recommend regular servicing by a SMEG authorised service centre at least once a year, to guarantee optimal performance at all times.
Consumables (e.g. peristaltic pump hoses) and/or parts subject to wear and tear must be replaced with genuine SMEG parts.

Remove the filters
Remove the filters (simply lift them out as shown here), taking care that no large residues fall into the sump underneath. Clean them to remove residues and rinse with plenty of water, then put them correctly back in place; do not use sharp or pointed tools.

Clean away any limescale deposits to prevent excessive build-ups.

If possible, leave the hood or door ajar when not in use. Clean surfaces thoroughly and often with a damp cloth, use neutral, non-abrasive detergents which do not use chlorine compounds, which corrode and damage stainless steel.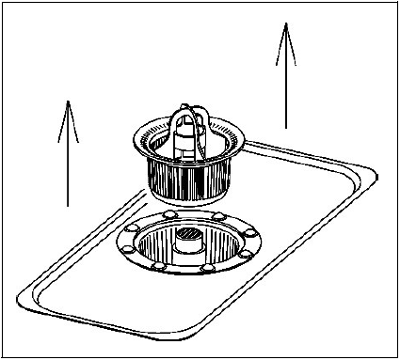 ---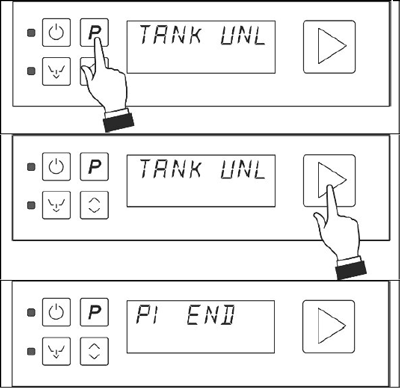 Cleaning the filter during the day
In case of particularly heavy-duty working conditions, the filter should be cleaned every 30-40 cycles, keeping the machine in operating conditions; to do this, carry out the "partial tank pumpout" routine (program "P0")) (TANK UNL).
Step 1
Press the "P" button, and hold it down, until "TANK UNL" and the duration of 2' appear on the display.
Step 2
Confirm by pressing the start button; light L2 turns blue.
Step 3
At the end of the pump-out the word "END" flashes on the display. The display returns to showing "P1". Clean the filter in accordance with the instructions.
After cleaning the filter:
for "undercounter" models, press to start filling (FILL).
for hood-type models, filling (FILL) starts automatically when the hood is closed.

---
Total pump-out at the end of the day
The dishwasher is able to perform an automatic cleaning cycle at the end of the day.

Step 1

Press the Drain button to start draining the appliance completely. "UNL" and the duration will appear on the display.

Step 2

The indicator L2 becomes blue. When finished, the dishwasher switches off.

Warning

Never switch the dishwasher off with water in the tank; always pump out first.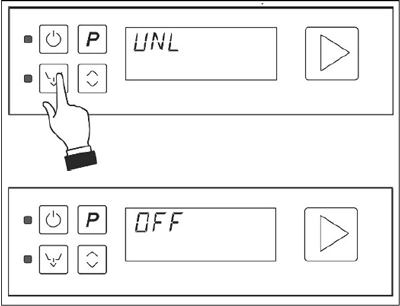 ---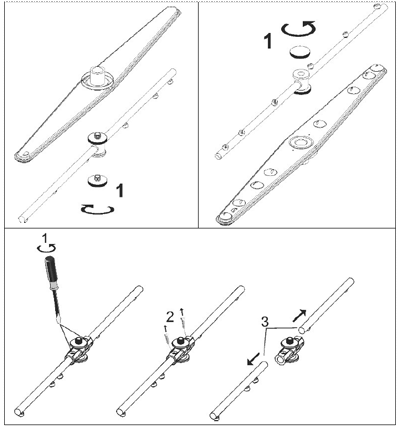 Routine inspection of the spray arm
Once a week you should remove the washing and rinsing (top and bottom) spray arms by unscrewing the central screw. Remove the rinsing spray arms 3 and remove the screws 2 as shown. Do not unscrew the nozzles. Clean the holes and nozzles under a jet of clean running water. Do not use tools which might cause damage.

Reassemble the spray arms with care.
Note
The upper and lower wash arms are identical so you cannot make a mistake.


---