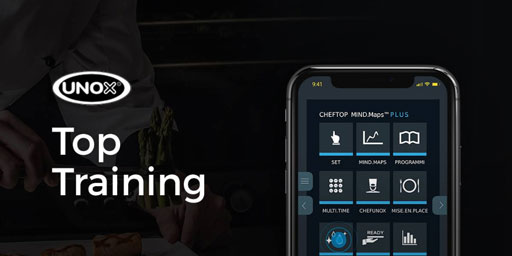 UNOX TOP.Training! App is now available
Unox Combi Ovens
At UNOX they see success as a very personal thing and they believe that success comes in many different forms. Building success means setting yourself short-term and long-term goals, and then making choices and taking actions to achieve them.
Goals could be anything, from self-realisation to creating a great team, a great family, a great business, from leaving your mark in the history books to attaining personal wealth, from living free to becoming an example for others.
At UNOX they want to give you the tools, support and ideas to help you rise to the challenge of building success.
Excellence in just two words: improve and simplify. It is an excellence you recognize at a glance. Made up of the same ingredients that your customers insist on: uncompromised quality, innovative and bold choices, proved and measurable efficiency and reliability.
Investing in innovation means seeing every day challenges in a whole new light: from giving value to every single gesture to the simplification of the entire production process. For you, this means maximum performance, freedom, ease of use and savings. For Unox, Inventive Simplification.
UNOX TOP.Training! App is now available
Now, UNOX is proud to announce that a new App is available on App Store and Play Store: UNOX TOP.Training!
The perfect tutorial for every Unox MIND.Maps™ End Users!
It will allows you to understand all the functionalities of CHEFTOP and BAKERTOP MIND.Maps™ PLUS and discover every secret, thanks to suggestions that will help you step by step!
Try now SET, MIND.Maps and MULTI.Time icons!
PROGRAMS, CHEFUNOX, MISE.EN.PLACE, UNOX.CARE, READY.COOK, DATA icons will be available soon!
Unox is at your side even for the most difficult challenges.
Making decisions is a big part of your work. Without making mistakes. Your job is to apply these decisions in the kitchen, first hand. Every day facing new challenges, always raising the bar of excellence. At your side, helping you to take on these challenges, there is Unox.
"Contributing to the quality, efficiency and simplification of our customers' cooking processes": this is the mission of Unox. With technology that is not an end in itself. It is an invention to serve simplification. Simplification that serves your business.