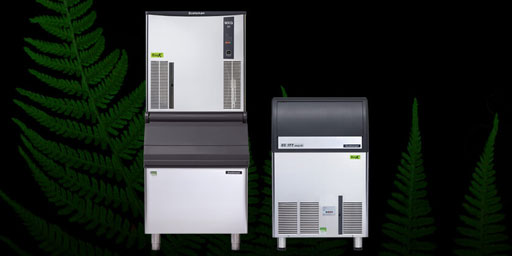 Scotsman EcoX Ice Makers
Each day the reality of climate change is every where in Australia.
As business owners, how we act and what we buy is already impacting in the decisions that we should be making.
And your customers know and understand who is making buying decisions that won't impact on the environment. And if that isn't your business they will vote with their feet.
Scotsman EcoX Ice Makers
For Australian chefs and restaurant owners it has become vital to consider the bigger picture of environmental sustainability when making equipment choices. Thankfully, such decisions can be both a win for the bottom line and a win for the world around you.
The Scotsman brand has been pioneering innovative and eco-friendly ice machines since 2003. Scotsman has helped many Australian businesses increase the quality of their output while reducing their impact on the environment.
With the release of the Scotsman EcoX range into Australia, the Scotsman's reputation continues to grow. Their conscious decision is to move focus to building green products and keep the environment within the glass cool without contributing to warming the environment outside it.
While the overall hospitality industry might not be directly affected in the everyday operational sense by climate change today, it is clear that there will be major impacts on our society tomorrow. And, as I mentioned before that includes the places where we eat and work.
So what are my 'green' commercial ice machine options?
Older style ice-making technology tends to use a lot of power for little output of ice. Today, if you are looking to purchase or replace your existing ice machine there you now have the opportunity to 'go green' without compromising quality or efficiency.
Any equipment that uses synthetic refrigerant f-gases (R404a and R134a) will be at risk of high maintenance costs in the future due to limited availability especially as the government limits the importation of these synthetic refrigerants into the country.
Why you should consider an EcoX modular ice maker?
To start with, the Scotsman EcoX range only uses natural refrigerants. These refrigerants are fully compliant with F Gas Regulations and have almost zero Ozone Depletion Potential (ODP).
Then there's the accumulated expertise and experience that goes into research and development at the company. Scotsman has worked hard to design innovative products that help save resources and respect the planet. The brand is world renowned both for crystal clear ice and high efficiency and superior performance.
With 22 models in the EcoX range range, it offers wide array of solutions to fit every need.
In the gourmet ice cube range (perfect to use with spirits), there is the popular EC Series of self-contained small commercial ice machines. If you need higher production ice makers, then try the MXG Series of modular ice makers and combine with a range of different capacity ice storage bins.
Then there's the NW Series of modular dice cube ice makers, the MF Series of modular ice flake machines and the MAR Series of scale ice makers.
Between them this equipment covers every type of need, from luxury hotels, fine dining and high-end bars to QSR, cafés, banquet venues and cinema businesses. From fish display counters, buffet displays and frozen drink preparations to food processing and large food displays in supermarkets, the EcoX range delivers the ice with minimum fuss and maximum efficiency and quality.