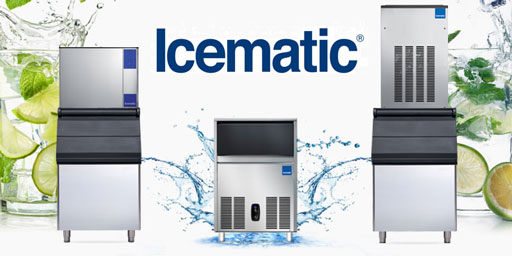 Fast and Furious Consistent
Icematic ice makers are known for their performance
ICEMATIC have grown to be a European leader in the ice machine sector. CastelMAC now exports to more than 70 countries as well as maintaining a leading position in their home base of Italy.
Hospitality is an increasingly competitive and dynamic market and for CastelMac, product innovation is their main objective. Technical innovation and the adoption of the most innovative technical solutions has allowed Icematic to be one of the most important world players in this field.
"Icematic ice makers are known for their performance, reliability and ease of installation,""

www.scotsice.com.au
Icematic M series
The M series is the main product line, which is a range of high production modular ice cubers. They feature the most innovative technology as well as increased energy and water efficiency. The M series is considered highly reliable, high quality and one of the best value for money ice machines on the market and are known for maintaining fast and consistent ice production.
Icematic CS series
The CS series is a new line of ice machines for Icematic, and it introduces the innovative spray system into the Icematic range of machines. The CS line allows Icematic to offer a complementary solution to hollow cubes in the markets where the full compact ice cube is preferred.
Both product lines have been developed to optimise performances, environmental sustainability, easy cleaning and installation as a built-in solution.
The entire range of Icematic products, from modular cubers to flake ice makers, offers a wide spectrum of solutions for ice storage and transportation.
Browse through the range of Icematic equipment or get in touch with us if you don't yet have a clear idea about the type of ice machine, ice type or amount of ice suited to your specific needs. At SCK, our specialised sales staff will be able to assist you through the entire process.