Summer is coming, lockdown is almost at an end and businesses everywhere in Australia will be gearing up for a busy time. To help you with the expected high demand for restaurant, cafe or takeaway foods isn't it time you thought about doubling your frying capacity?
Double your performance with a Cookon large capacity twin tank fryer
For the best range of high performance commercial deep fryers on the market, you can't beat Cookon commercial kitchen equipment for Australian made quality and industry-leading fuel efficiency.
Don't forget, in addition to the industry leading THREE YEAR WARRANTY on all Cookon products.
Cookon Deep Fryers
The unique, thick hand-welded stainless steel ripple tray bottom of the Cookon deep fryer pans delivers twice the surface area of heated stainless steel, requiring less gas to heat the oil. Many of our customers tell us that using a Cookon deep fryer has saved them 50% more gas than other market leaders. They are user friendly and deliver high performance with huge savings.

Cookon's experience over decades of product development has resulted in a smart range of commercial gas deep fryers offering longevity, fast recovery rates and quality guaranteed.
What more peace of mind does a hard-working kitchen need?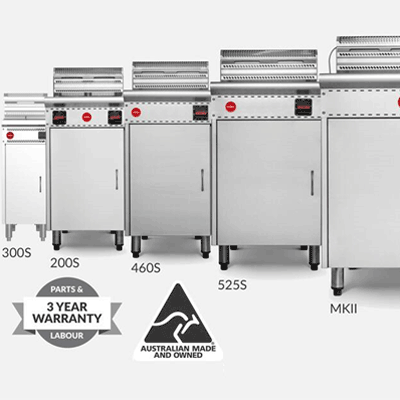 ---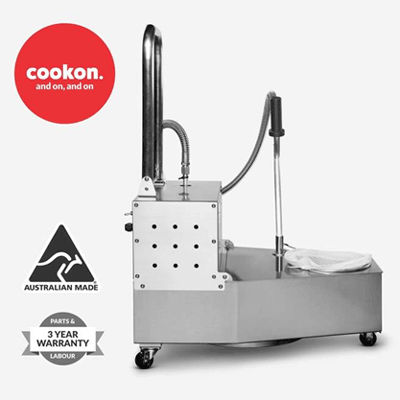 Cookon Kaybee oil filter machine
And if that's not enough, use your fryer with one of our Cookon Kaybee oil filter machines and prolong the life of your oil by another 50 percent

KayBee oil filter machines are the best oil filtering system in the commercial kitchen space. They pay for themselves in no time because filtering prolongs the life of your oil by at least 50%. They are built with stainless steel throughout and are compact for easy use and storage and fully mobile for ease of movement.

---