Check out the latest restaurant industry trends and insights
Dimmi the Online restaurant reservation website has just released its 5th Australian Dining Index.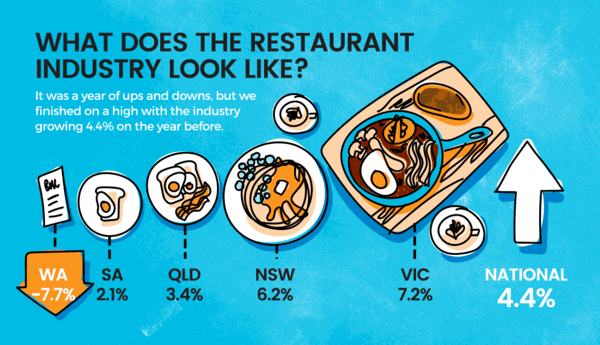 Dimmi Australian Dining Index 2016
Check out //www.dimmi.com.au/infographics/dining-index-2016
Check out the latest restaurant industry trends and insights. Learn how these will impact your business. Dimmi Australian Dining Index 2016
Are ready to seize these opportunities? ...or ...
Will you get consumed by the new challenges?
With the political uncertainty, most businesses have been in a holding pattern. Yet despite all the doom & gloom the Restaurant Industry grew by 4.4% Nationally.
This Restaurant growth could have been much better except Perth suffered a 7.7% drop on last year figures.
So according to Dimmi Dining Index
Melbourne recovered from last year slump to get a hefty 7.2% growth...
Sydney's growth surged by 6.2%...
Brisbane had a respectable 3.4% growth...
Adelaide still managed to achieve 2.1% increase in growth...
Perth's growth slumped by 7.7% a legacy in the declining mining Boom...
"Gastronomic Youthquake"
In a recent article in The New York Times Pork Belly, Lobster and, Yes, Music
"But Mr Mayers, whose Superfly firm hit the jackpot with Bonnaroo and Outside Lands before dreaming up GoogaMooga, couldn't help but pick up the tremors of a gastronomic youthquake. (Outside Lands started offering a wine tent and treats from San Francisco chefs five years ago.)"
Pork Belly, Lobster and, Yes, Music By JEFF GORDINIERMAY New York Times
As it say on there website Pork Belly, Lobster and, Yes, Music - New York Times
The Gastronomic Youthquake movement is, spreading rapidly across the globe where festivals and gigs sell fewer tickets. But restaurants are getting more and more bookings for tables by young people.
Australia has embraced the Gastronomic Youthquake trend.
So what does this mean?
It should not be surprising that The 25 years olds like going out. They are eating out at restaurants more frequently.
The Restaurant industry still managed to maintain the average spend on a meal at $64.28 per person. it just happens more often.
This a major reason why restaurants nationally had a 4.4% growth.
QSR Magazine conducted research which showed that as people get older they spend a smaller percentage of their income on eating out.
They also stated the people who fall in the richest group spend approx 39% of their total food expenditure on meals out.
Where their study got interesting, which plays out in this Gastronomic Youthquake. The 25-year-olds & below spend a whopping 46.1% of their food allowances on meals out. We are not talking takeaways, but actual meals out.
So the Babyboomers are declining audience for restaurateurs. The Gen Y and the Millennial demographics are spending money in restaurants.
So this leads into the next trend...
The Mobile boom. The Gen Y and the Millennial and there Mobiles are one. It's like they're fused to their phones. So when Gen Y and the Millennial decide to eat out, their first point of call is their mobile.
Do you show up?
Nearly all Generation Y consumers own a mobile phone of some kind and 72% owned smartphones... Source: Forrester, 2013
They grab their phones & start checking out reviews to deciding where they want to eat. 35% of Aussies say they depend on verified diner reviews to make an informed decision about where to dine.
There checking out your location your menu & your prices
What type of Local information did people look for?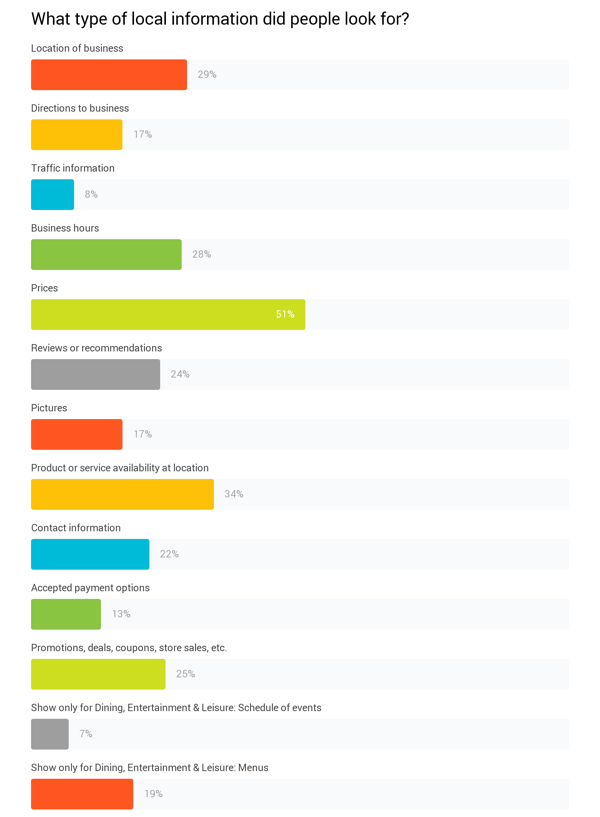 Google surveyed in The Consumer Barometer Survey 2014-15 Australia //www.consumerbarometer.com/
74% of U.S. consumers use location-based services on their smartphone and 46% of mobile phone users use location-based services... Source: Pew Internet & American Life Project, 2012
If you have a mobile responsive website, then you in with a chance. That's if your website actually lets them ring with a click of your phone number. Here's the shocking news for most restaurant website, they can't ring by clicking the number.
Just so you get this if I'm on my mobile I don't want to have to dial up your number to make a call.
I'm not sure if you noticed but Gen Y and the Millennial are impatient. So If it's difficult to ring you or website takes to long to load there eating at next restaurant.
49% of mobile user, will call after searching the internet, on their mobile phones.
Mobile searches relating to restaurants have a 90% conversion rate with 64% converting within the hour... Source: xAd and Telemetrics, 2012...
9 out of 10 mobile searches lead to action. More than half lead to sales... Source: SearchEngineLand...
This has to be one of my favourite stats...There are 6.8 billion people on the planet at present. 4 billion own mobile phones... (But only 3.5 million use a toothbrush)... Source: 60SecondMarketer.com...
95% of smartphone users have used their phone to look up local information. After doing so, 61 percent called. And 59% visited. When asked why they would scan a QR code, 87 percent of smartphone users said it was to access a coupon, discount or deal. 42 percent of tablet users admit to using their tablet at the same time they're also watching t.v. (Some of them, of course, looking up information about the program they're watching, as covered in item 14.)... (Source: nielson.com)...
65% of online bookings are made on a mobile device...
34% of bookings now made within 24 hours of dining time...
42% of all restaurant reservations are now made online, allowing restaurants to cut back labour costs and capture critical customer data at the point of booking...
Sunday trumps Friday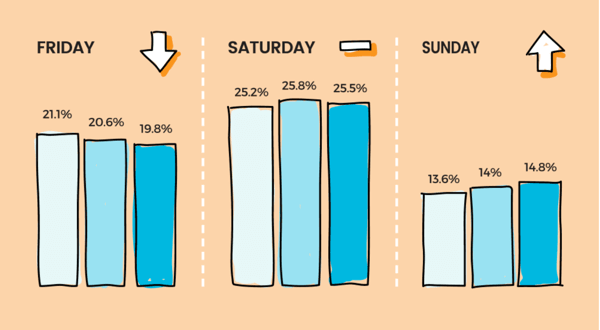 Friday's down, Sunday's up: it seems that dining on a Friday is down while Sunday's are up. We've seen a rise Sunday covers in FY2016.
The Dimmi Australian Dining Index 2016 gives vital clues on what's happening in the restaurant industry.
The Gen Y and the Millennial are not going away.
It's not a fad. So if you get a grasp on Gen Y & the Mobile users then you have a huge opportunity to seize the moment.
Skip all the hard work and get the right equipment Restaurant or Commercial Kitchen
If you would like to find out more about Restaurant Equipment for your food business then please choose from one of these options: